Yes, yes, yes, I know. The title's pinched from the X-Files and it's thoroughly cliché. Let's move on!

There has been a lot of controversy of late regarding the national media, with accusations of certain mainstream media misrepresenting facts, encouraging hate and attempting to manipulate public opinion. While we are not prepared to comment on these accusations here, we are aware of some people's concerns in this area. As such, this area will be dedicated to analysing news on Brexit and those things connected to it, and trying to report on it without spin or bias.

Powered by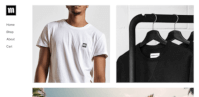 Create your own unique website with customizable templates.